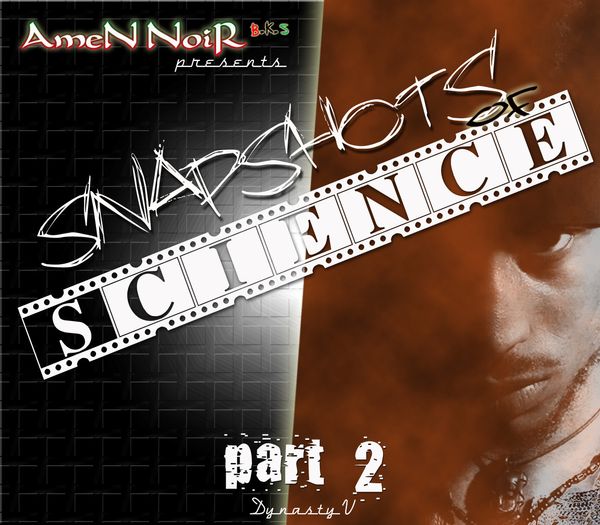 SNAPSHOTS OF SCIENCE PART II 
      - Credits/Lyrics/Guest Artists -
LYRICS for Snapshots of Science Part II

[click on each track to download & save lyrics]
1. INTRO - Dr Lez [No Listing]
2.
WELCOME2DALANOFSCIENCE
- feat Hannah/Nyarai
3.
FOOTPRINTZ
- feat SarinaLeah & Nutty NRG
4.
HELLO
- feat Nyarai
5.
NAMELESS
- feat Lacy Adigwu
6.
13th OUR
- Bassy-Maddison Famila
7.
SO BAD
- feat Nutty NRG
8.
PHENOMENAL WOMAN
- feat Fola
9.
WHO'Z KILLING WHO?
10.
UNITY
- feat Nyarai
11. 'BA'-B-LON DONALLSTARS - feat Nutty NRG/Hannah/Sarina Leah/
       FLOetic Lara/Mosaic/J'Nay/BKS/Danyy K2Fam [No Listing]
12. AMENZGROOVE [No Listing]
13. OUTRO - Dr Lez [No Listing]
Album Synopsis
SNAPSHOTS OF SCIENCE PART II: INDIVIDUAL TRACKS OVERVIEW

[Learn more about each track on the album]
WELCOME2DALANOFSCIENCE
– feat Hannah & Nyarai
This is the introductory piece to the album. Set to a moody Jazz/Soul feel, the focus is on Welcoming the listener to not only the album, but the world of AmeN NoiR; and the acknowledgement of the ancestors and those that had sacrificed their lives for us to be here today. With the additional soulful adlibs of the amazing 'Hannah', and 'Nyarai', this track really sets up the runway for a quality experience.
*Produced by AmeN NoiR
FOOTPRINTZ
– feat SarinaLeah & Nutty NRG
The 1st full track on the album. The explosive start to this track really draws in the listener. With the multiple layers of the Super Soul Singer SarinaLeah leading the cavalry in, AmeN & Nutty NRG set to task of projecting the importance and relevance of leaving a legacy or 'Footprint' for well beyond their lifetimes. !ronic & Gizla [Nutty NRG] provide a balance to this track with their rapid fire lyrics as rappers, as they merge seamlessly with the Spoken WORD of AmeN.
*Produced by: AmeN NoiR
HELLO
– feat Nyarai
'Hello' is a piece that focuses on the relationships of our brothers and sisters in everyday life. The way we communicate [sometimes non-verbally] and relate to one another on our travels. AmeN NoiR explores the difficulty in assessing the attributes and outward display of the actions of brothers and sisters in the community. How hard is it to know whether they're 'friend' or 'Foe?' And what do we use to make that judgement?
*Produced by: AmeN NoiR
NAMELESS
– feat Lacy Adigwu
For anyone who has lost a loved one or for those who pour libation in memory of the ancestors, this is the track for you. Written by Lacy Adigwu primarily, and AmeN NoiR thereafter, this track is an acoustic array of emotional art, effortlessly joined by the talents of these (2) artists. The journey details the emotion of loosing a lost one, but at the same time acknowledging their continuing presence beyond death. By expanding the feeling of loss to those we may never have met in our lifetimes, AmeN & Lacy also touch upon anyone that has gone before us and the connection we have with them today. A sensuous collaboration of the highest echelon.
*Produced by: AmeN NoiR
Guitar: Lacey Adigwu
13th OUR
– feat Bassy-Maddison Family
The '13th OUR' is soulfully crafted by AmeN NoiR from the outset of this track. The vibe is both entertaining and educational. From the educational point of view, AmeN provides a fresh look at the significance of the number 13 and it's relevance to time and the measurement of time. The focus is initially formed around assessing the time we're living in and the many positive aspects of the black/African community that enable and encourage the growth and reawakening of their true minds in this time.
With the additional WORD sound from AmeN's family, this track adds an element of reality and a focus that is routed in the next generation's inheritance.
*Produced by: AmeN NoiR
SO BAD
– feat Nutty NRG
This is where AmeN NoiR & Nutty NRG simply has fun and creates an edutaining presentation of music & art. 'So Bad', is written with the wonderment and acknowledgement that…'It's a joy to be an African!' A snapshot of the god-given attributes bestowed upon the African and the thanks that is given to the creator for these gifts. Once again, the complimentary styles of Rap & Spoken WORD are very much evident in this piece, alongside the Soulful/Hip-Hop creation of AmeN on production. "…Damn! This track is 'So Bad!"
*Produced by: AmeN NoiR
PHENOMENAL WOMAN
– feat Fola
Primarily written by Fola, 'Phenomenal Woman' was inspired by Maya Angelou's poem, Phenomenal Woman. First featuring on Fola's debut album 'FOLA the music', this track was recorded with AmeN providing the intro verse. It is now presented on this collection with AmeN providing more of his WORD sound and presence by a second verse and outro. 'Phenomenal Woman' is a piece written about the attributes in the style grace of woman in general. The focus is on the amazing quality of the woman and the significance to life and nature. Fola is unquestionably exquisite on this piece, providing the listener with lyrics, vocal dexterity and richness to take this track to higher heights. In other words…Phenomenal!
Produced by: Chris Wilson
Musicians: Drums//Justin Pickett: Keyboard//Chris Wilson:
WHO'Z KILLING WHO?
A look at the current position a 'section' of the African community find ourselves in. This track explores the self-destructive behaviour that can implode within, and the expectation for someone else to provide the solutions; whether they caused it or not. A very short piece which is musically produced by Gerry Ranks of JahLive Music, providing an upbeat/Soca/Hi Life feel to the mix. Short & sweet!
*Produced by: Gerry Ranks on behalf of JahLive Music

UNITY
– feat Nyarai
With an apt intro by the shining Prince Omawale Malcolm X, this Hip-Hop vibe track bursts through you're speakers to deliver a nod-nodding wake-up call to those that thought Spoken WORD was one-dimensional? With the focus on the call for Unity within the community as well as within relationships, AmeN & Nyarai deliver an array of song, WORD and magnificent chemistry to address the power of Unity. Nyarai takes the lead on this track and really puts the marker down for AmeN to follow. The Unity of minds and efforts is the message, and you're sure to get it!
*Produced by: AmeN NoiR
'BA'-B-LON DONALLSTARS
– feat Nutty NRG, SarinaLeah, DannyK2Fam, Hannah, Mosaique, FLOetic Lara, J'Nay & BKS
This piece is a look at London and the London scene as a whole. AmeN summarises his experiences as an African dwelling in London and comments on the music and Spoken WORD scenes. With special appearances by some of London's premier Spoken WORD artists, rappers, M.C's and vocalists, this track is taken out of this world with a unique blend of tones and view-points of London and the scene. A rely Marathon of WORD sound and delivery.
*Procuced by: AmeN NoiR
Authors Note
Authors Note
Snapshots of Science PART II is viewed as the final stage of my self-producing development and growth. From day 1 on this Spoken WORD scene I've self-produced 98% of not only the music/sounds, but also the artistic design and packaging for the album sets. This for me was vital on the road to self empowerment and realisation, and that with organisation, commitment and vision, many obstacles become void and surpass able.
It has been a journey which for me, has improved from each album to the next. From Emotions of the Soul, to Rhythmical Reason, to Still… to Snapshots of Science Part I, and currently, Part II; and I hope this is evident in the products themselves.
I say 'final stage', but I guess it's more like 'for now'. Live music is the order of the day, and will continue to be the forum upon which all artists are judged and valued. For all those that have performed with a live band rather than to a c.d…in the words of another UK great "….there's nothing like this." I feel I have displayed the ability to create and demonstrate the drive to 'do for self' and I'm now ready to expand and further my efforts of bringing something different.
This Snapshot of Science collection was to highlight the amazing talent we have here in the U.K, and how many of the genres from Hip-Hop to Spoken Word are interchangeable and work well together. From the vocal talents of Floetry, the combination of song and word is more than apparent and proof that Spoken WORD has a rightful place alongside 'mainstream' genres.
So this journey has been less about me, and more about the uniqueness of UK artists. Not only in lyrics, music, vocal talents, but our collective experience of living in London as 2nd, 3rd and 4th generation children from the continent of Africa or the Caribbean. That in itself is a story to tell. So hail all contributing artists that have been part of this expression.
Yes family! The Snapshots of Science project is finally over. And with such an array of multi-talented artists featured on this journey, it's only right to pay mention to them all.
Jah Mirikles [U.K], Ugochi [Nigeria/Chicago], David J [U.K], Lady Loxx & Eddy Da' Original One [Canada], Nyarai [UK], BKS [UK], J'Nay [UK], Mama Sol [UK], Sarina Leah [UK], Nutty NRG [UK], Hannah [UK], FLOetic Lara [UK], Dan I K2fam [UK], Mosaique [UK], Twilight Bey [US/UK], Scratch Professor [UK], Gerry Ranks [UK], Fola [UK], Lacey Adigwu [UK], Prophet Kwaku [UK], Dr Lez Henry [UK], Da Twinz (Skank & Boogie) [UK].
Maximum RASpect to each of you, and may your individual talents be fruitful and lead to artist artistic satisfaction. May the grace of Mwari/Allah/Ptah/Ra/Jah/Jehovah be forever present and guiding in your works, and may the acknowledgement of your endeavours be seen in the creator's eyes and that of those in-tune with spirit, art, creativity, passion and straight up SCIENCE! Tendai Mwari!